Ghostbusters: Resurrection is a roleplaying podcast syndicated on The Nerdy Show Network. The first season was originally distributed via the GBR Tumblr and later republished on Nerdy Show.[1] The second season, called Ecto Alert, began running in in February 2013. New episodes are currently being released monthly on Wednesdays.
Plot
It's been over twenty years since the world was last saved by The Ghostbusters of New York[1]. Ghosts are a rare sight these days and people have once again grown skeptical. But now, ghost sightings are on the rise in Central Florida. In a desperate attempt to keep the state's image as "the vacation capital of the world" unbesmirched; the mayor cuts a deal to start a new ghostbusting franchise in Orlando.
Enter five loveable slackers who are desperate for a quick buck and a change of pace. LaForge (the muscle), Bjornstad (the cool), Briggs (the brains), Wall (the moves), and Poole (the heart) soon find themselves in way over their heads as an ancient evil force threatens to destroy humanity!
Main article: List of Ghostbusters: Resurrection episodes
Season 1 (2012)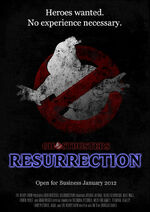 The Central Florida Ghostbusters embark on a series of misadvenures which ultimatley leads to a confrontation with a supreme being determined to take over the world.
Episodes
Season 2: Ecto Alert (2013-2015) 
When the International Ghostbusters go missing somewhere in Europe, the Central Florida Ghostbusters are called in to help solve the mystery of their disappearance. It's not long before they stumble into danger and embark on an epic trip that'll make the last time they saved the world look like a piece of cake.
Episodes
Cast & Characters
The Ghostbusters (Player Characters)
Briggs: "The Brains"
LaForge: "The Muscle"
Poole: "The Cool"
Wall: "The Moves"
Nina: The receptionist/part-time Ghostbuster. (Plays in Season 2)
Bjornstad: (In "retirement" after Season 1)
NPCs
Tobin: The dog.
Doug: The GM aka "General Manager" of the Central Florida Division.
The International Ghostbusters

The Medic, The Heavy, The Spy, The Demoman, and The Sniper

Billy Bishop: "The Scout"
Special Character "Appearences"
Other Episodes
Nerdy Show
Nerdy Show Prime
Derpy Show
Film Commentary
References
External Links