Dungeons & Doritos is a roleplaying podcast set in a medieval fantasy realm loosely based on the world of Dungeons & Dragons. It began as a one-off episode in Season 2 of Nerdy Show and became the second original show on The Nerdy Show Network.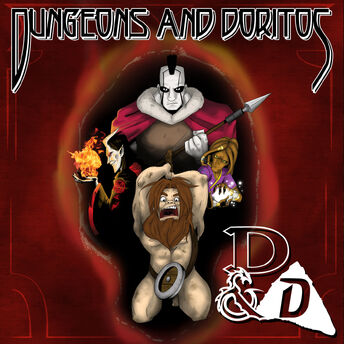 Plot
The series primarily follows the adventures of Jen'Ifer a Tiefling played by Brian Clevinger, Jamela Dalla Egberte III a Dragonborn played by Cap Blackard, Vimak a Goliath played by John "Hex" Carter, and the chair-turned-dwarf, called Chair played by "Triforce" Mike Pandel. Later, Barty Gleem'n a human rogue played by Colin Peterson and Lefty Corney a pirate queen played by Lefty Lucy joined the group.
Cast & Characters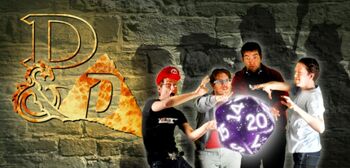 Jen'Ifer
Player: Brian Clevinger
Class: Warlock
Jamela Dalla Egberte III
Player: Cap Blackard
Class: Invoker
Vimak
Player: John "Hex" Carter
Class: Shaman
Chair
Player: "Triforce" Mike Pandel
Class: Tank [Played as a Warden during early campaigns]
Chair is a dining room chair that was transformed into a dwarf. Presumably the magics involved in his transformation gave him the gift of speech and some basic cognisance, but no social mores. He's filled with child-like wonderment and revels in physical experiences. He also hates clothes, is filthy, and is lethal with a blunt instrument. The whys and wherefores of his transformation are unknown, but it's presumed that he was left in a cabin in the woods for some time before he was discovered by the party.
Bartholomew "Barty" Aelfgar Gleem'n
Player: Colin Peterson
Class: Gleeman
Lefty Corney
Player: Lefty Lucy
Class: Swashbuckler
Episodes
Main article: List of Dungeons & Doritos episodes
References
External Links